15 months
It currently takes over 15 months to process your Canadian Citizenship Certificate application, provided that application is properly completed and supported by the correct documentation.
In Immigroup's experience, it's closer to 6 months eligible for urgent processingso you should allow for a six month processing time when applying for your Canadian citizenship certificate, unless you are .
Why does it take so long to replace a certificate?
Well, in addition to confirming you are the person you say you are, Immigration, Refugees and Citizenship Canada (IRCC) has to confirm that you should be a citizen. The previous federal government initiated changes that made it possible to lose your Canadian citizenship, something that was not possible between 1977 and 2009. As a result, we can assume that IRCC is looking into more than just your identity when the application is submitted.
However, the processing time for a citizenship certificate was 5 months back in 2008 too, so it could be that this is just not a priority application for IRCC.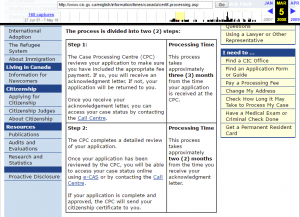 Please Note: If you are amending your date of birth on your Canadian citizenship certificate, the processing time will take over two years. Learn more.
Can I Get My Certificate Urgently?
You may be able to get your citizenship certificate urgently if you meet the criteria for urgent processing.
Prove Your Status in Canada.
We'll review your application for accuracy and completeness and file it with Citizenship and Immigration Canada (CIC).
---